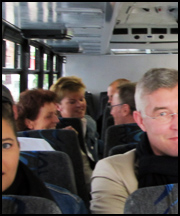 We have developed a series of both single day, as well as multi day motorcoach experiences throughout Washington DC, northern Virginia, as well as Baltimore to provide the optimal vacation. We apply the philosophy behind our Food Tours to each region to create an event that shows off the best the area has to offer. Our experiences include chefs demonstrations, bakery and kitchen visits,farm to table feasts, sightseeing and historic tours, and mixology demonstrations, and technical tours.
We add additional hosts and guides to larger groups (greater than 15 people) in order to maintain the intimate experience provided on our Food Tours.
Please check our schedule for current motorcoach tours available around the country.