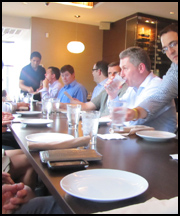 We can accommodate both small and large groups, ranging from four to over two hundred people.In order to ensure we minimize the impact on the area being visited, we split large crowds into smaller, more intimate groups.
We bring additional guides and hosts on our tours to ensure greater interaction, and assistance. We take routes that are typically used by locals rather than tourists. The result is a removal of the barrier between tourists visiting an area, and the locals that live there, as well as a more authentic look at life within each area being visited.
Please contact us at info@foodtourcorp.com or by phone at 877.406.3446 for more information and to book.
details
Company Excursions
Motorcoach Tours (single or multi-day)
Weekend Retreats
School Outings
Rehearsal Dinners
Bachelor/Bachelorette Parties
Evening Dine Arounds
Multi Day Motorcoach Tours
Technical Tours
Pub Crawls
Food Demonstrations
Cooking Courses
Standard Food Tours/Market Tours